I still remember the first time I arrived in Korea in 2018. I stepped outside of Incheon airport trying to find a taxi with my colleague Ivan where an elderly, friendly-looking man picked us up. "First time in Korea?" He asked us. I nodded in agreement and walked towards the car. I didn't know that this would be the start of a love story with a country, I yet barely knew how to say Hello in.
Singing Taxi Drivers?
Ok, let's start the lesson, the man suddenly announced. Confused, I looked towards Ivan, who was as surprised as I was. "What does he mean, the lesson?" But there was no time to even think about what was going to happen. With an excited voice, he told us: Please Record and Repeat: "직진,.. 오른쪽,.. 왼쪽,.. Aaah turn around,.. 뒤로! Turn around please, oooh yeahhh, 뒤로 , 뒤로 , 뒤로!" Energetically he swirled his hands around his head while explaining to us directions in Korean. First, rather shy, we spoke our first words in Korean. He was truly an entertainer.
How to be cute in Korea
He also gave us a lesson in Aegyo, or the way of acting in a cute way. "you need to wink, wink! 깎아 주세요~~! Who would have thought that on our first day in Korea, an elderly man would explain to us how to use a baby voice and cute gestures to get a discount in his country?
While we were crossing the enormous, beautiful bridge towards Seoul, he suddenly started singing loudly and with full excitement: "Gangnam Style!!!"
This was with no doubt the funniest Taxi ride and Language lesson I've ever experienced. And what I didn't know back then, the start of me learning about a new culture, language, and of course, music that would turn my world upside down.
The first thing I remember is falling in love with the people, quickly followed by the language and culture, and of course the food. But I also made an interesting discovery about the Music Industry – which wasn't reduced to just the music itself in Korea. It was rather an experience of the senses, multimedia, interactive experience while walking around the city.
BTS, a new discovery
I remember it vividly when I first encountered BTS adverts in Myeongdong, Seoul's famous shopping district. In fact, I didn't know it was BTS at that time. I just looked at a cardboard cutout of 7 handsome guys in front of a pharmacy, and later on, in front of a bank. It wasn't the fact that they were handsome that impressed me at first. It was the fact that these guys were advertising credit cards and pharmaceutical items that first drew their attention towards me.
As a Gamification Consultant, I constantly look for new ways of engaging people and making boring experiences more enjoyable. Most banks and pharmacies these days are far from exciting and have not adapted to the player, the people that actually experience their products and services. Their design is function-focused rather than human-focused. (Read more about human-focused design and Gamification)
I was impressed how Korea's culture was embracing Gamification in every part of life. It seemed like it was part of how they designed things rather than just slapping some points, badges, and leaderboards like so many wrongfully did in the west.
My fandom story started with the exploration of a country's people, language, and culture, and just then, I realised that this was all part of something even bigger than I could even imagine.
Idol at the subway station
The first time I heard BTS' song "idol" was probably when I was walking through Euljiro 3, a subway station in the northern part of Seoul. I guess I must have passed multiple shops playing the same song as it felt strangely familiar to me, but I still didn't know their name and of course didn't know the song was connected to the cardboard cutout I had seen earlier. To this day, I'm impressed by how integrated music is in the Korean landscape. Wherever you go, you can hear the energising beats, catchy hooks and emotional vocals. You see idol images in adverts for pretty much everything. Food, skincare, massage chairs, phones, and even cars.
Watch and listen
But back then, I was just watching and listening. Something about the music felt different. It was a new, seemingly strange, and unfamiliar sound. I was intrigued but also confused. The vibrant music videos, the colourful hair, the unpredictable structure of the songs featuring bridges that could be separate songs because they seemed so catchy to me. Kpop and especially BTS has made my discovery experience exciting and has sparked my curiosity with everything new I encountered.
On my last day in Seoul, I decided to walk down an alley in Myeongdong to buy some souvenirs for my friends and family. I looked to the left and there they were again. The 7 guys I fell in love with a few days ago. Of course, I needed to buy some souvenirs related to them. The stand to my left was selling socks with 1000s of colourful prints. From animals to cute Ghibli characters to Psy, they had it all. Unfortunately, the writing on the socks was in Korean,.. I could still not read any hangul (the Korean alphabet) at that time, so I had no clue what I was actually buying, but I was pretty sure it was somehow related to them.
Deciphering Korean letters
Back in my hotel room, I was trying to decipher the Korean letters that spelled 제이홉. I tried hard for many hours:
ㅈ = j/t
ㅔ = e
ㅇ = – or ng
l = i
ㅎ = h/t
ㅗ = o
ㅂ = b/p
Like a detective, I layed out the foundations of my Korean language skills. With the goal of translating the name on a sock, I had just bought at a Korean market.
Gamification of Korean Language Learning?
The word Jeihob shaped itself on the bottom of my piece of paper where I scribbled all sorts of interesting combinations of letters and symbols I didn't understand yet. "Did I just gamify Korean language learning?" Again, I wasn't aware of the impact this will have on me in the upcoming years, but I was on fire. Now that I finally had a name, I was going to find out everything about it and the 7 boys I met in Korea.
And I did. I binge-watched Music Videos, Documentaries, funny Fan Edits, and Reality Shows. I started supporting a Kpop related Youtube channel called DKDKTV via Patreon, I listened to all their albums, cried to Jin's Epiphany, started collecting CDs and Photocards, and finally found a community of like-minded people, the BTS ARMY.
What BTS and ARMY taught me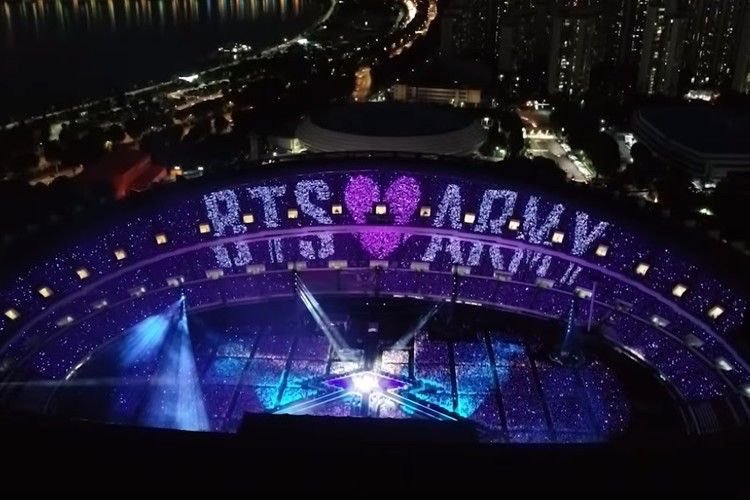 I found ways to incorporate the learnings I made through exploring BTS and their Fandom in my work as a Gamification Designer where I specialised myself in Fan Engagement. Fandom enabled me to explore a new, exciting part of myself and created opportunities I wouldn't have imagined. The healing lyrics of BTS taught me to love myself and overcome my hardships. It enabled me to create my own music in new, creative ways I wouldn't have thought of before, and most importantly, it gave me the skills to listen, absorb, analyse and adapt in new, innovative ways.
This was my fandom story, please share yours in the comments below!
If you'd like to learn more about how you can create similarly engaging Fan strategies, and increase the motivation of fans with the power of Gamification, please send me a message via [email protected].